Causey Aviation is excited to announce a new partnership with award winning Chef Rich Carter and Catering Works to provide elite catering for our private jet clients. The Catering Works culinary team is made up of creative innovators with professional training from distinguished institutions such as Johnson & Wales, The California Culinary Academy of San Francisco, and the Culinary Institute of America. With delicious offerings such as Beef Filet with Onion Soubise and Risotto as well as custom cocktails, your next flight will be the ultimate in luxury travel.
Chef Carter recently defeated 15 of the best Triangle chefs in a friendly competition to raise $200,000 to benefit the Lucy Daniels Center in the 2017 Cooking for a Classic. As seems natural for competitions in North Carolina, chefs were paired off over multiple rounds in true "Sweet 16" NCAA Tournament style and the winner of each competition advanced to face another winner in the following round. In each round, chefs battled to create a three-course meal of small plates. In a unique twist the chefs were also responsible for a signature cocktail, wine or beer pairing to go along with each course. Guests and local celebrity judges voted for their favorite dishes to determine the winner of each round.
Meet "Cooking for a Classic" Grand Prize Winner and Causey Aviation's Executive Chef Rich Carter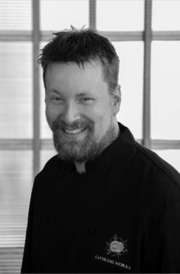 We sat down with our new Executive Chef this week to learn more about his culinary journey, and how he continues to be inspired by sustainable, fresh fare-both in and out of the Catering Works kitchen.
As the Executive Chef of the Triangle's top caterer, Catering Works, Chef Carter has developed hundreds of recipes and menus, whether it's crafting meals for an intimate dinner for two or feeding thousands at a company picnic.
Chef Carter is not your typical executive chef. Sure, he shares an undeniable love for food and daydreams about creating innovative meals using fresh, sustainable ingredients, but he also LISTENS to the client, creating seasonally inspired dishes that will bring them joy. He also delights in attempting to challenge the palate of well-traveled guests.
"Working with Jill, Catering Works founder and Culinary Director, the rest of our team and the folks at Causey Aviation is such a fun, collaborative and all around cool experience in and of itself. I can't wait to showcase Global Dining Adventures at 40,000 feet." In Chef Carter's terminology, this means serving bliss with every bite.
Chef Carter has created an exclusive menu for Causey Aviation. Custom creations based on our clients' own unique tastes and dietary requirements are also available.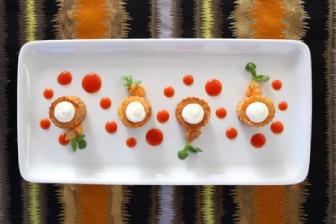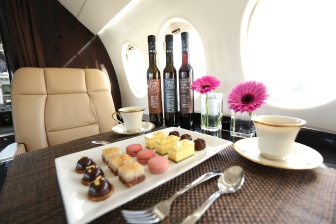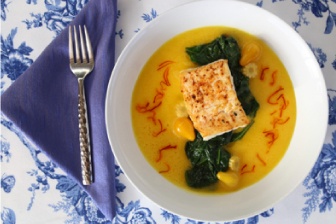 Causey Aviation and Catering Works have partnered to introduce Global Culinary Adventures, where we'll travel around the world, experiencing authentic meals with Chef Carter's special twist. Visit Cateringworks.com to reserve your seats today!