Children's Flight of Hope provides air transportation for children to access specialized medical care. Children's Flight of Hope uses airline travel whenever possible, but some children have medical conditions that require private air travel. A 501(c)3 nonprofit, CFOH relies on individual donors and community support to fly hundreds of children every year. Causey Aviation was honored to have the opportunity to provide several donated or deeply discounted flights for Children's Flight of Hope. See some of their patients' stories below, as well as ways you can support Children's Flight of Hope!
Griffin
Griffin has Hurler's Syndrome, part of the mucopolysaccharidoses (MPS I) family. It is a rare genetic, metabolic disorder where the gene that makes an important enzyme, alpha-L-iduronidase, is damaged. This enzyme is needed for the breakdown of glycosaminoglycans which, if not broken down, can build up in the cell, eventually leading to cell, tissue, and organ damage. On the spectrum, Hurler's is described as the most foreboding, as this is a condition with a very rapid disease progression, developmental delay, very severe physical problems, and early death.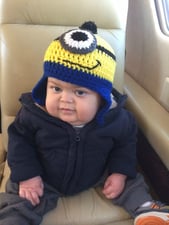 Griffin, now 3 years old, had a bone marrow transplant at Duke. His family relocated to Durham for 15 months and for most of that time, Griffin's dad commuted weekly between Atlanta and Durham so he could keep his job as a high school teacher. Griffin's immune system is severely compromised which required a private flight when he was ready to return home in January. Griffin is such a friendly child, he had a smile for everyone. You would never know how much he's been through.
Children's Flight of Hope had some kind words for our team members, "I wanted to say a word about the wonderful experience we had with Causey Aviation! When the winter storm approached, the Causey dispatch and crew mobilized in a matter of minutes to get the family home safely on Thursday evening rather than waiting for the scheduled time on Friday, which wouldn't have happened. The level of professionalism and consideration they provided is something we have been striving to find." We were honored to be of service to Griffin and wish him all the best.
Thor
We had the pleasure of flying Thor and his family home to Minnesota. Thor was diagnosed with Chronic Granulomatous Disease about a year ago. When the family found out they would need treatment at Duke Children's Hospital, Thor's Mom had also received big news. She discovered she was pregnant with Thor's soon to be little sister.
The family was not going to let anything stop Thor from getting the bone marrow transplant that he needed. Mom, Dad, and Thor arrived at Duke in February for his transplant. About a week after being in North Carolina, Thor's sister Lila was born. Doctors were able to bank cord blood from Lila to use for Thor's bone marrow transplant. While this disease used to be fatal, the bone marrow transplant Thor received would completely cure him. July 29 was a huge day for this family. Thor was healthy enough to make the trip home and Lila got to go home for the first time!
Every time the family thought they were going to be able to make the trip home, Thor would become sick and unable to leave the hospital. A physician assistant at Duke described him as, "the boy in the bubble." Thor was not able to go out in public places, much less take a commercial flight. With a twelve hundred mile span to make it home, driving was also out of the question. The family would not be able to stay in hotels or let Thor out of the car at rest stops. With such a compromised immune system, the doctors at Duke and the family asked Children's Flight of Hope for assistance. We were able to safely and quickly get the family back home. The family was very grateful to Children's Flight of Hope for providing them with a way to finally go home.
Bella
Bella is just 13 years old, but has experienced so much already. She is brilliant, intuitive, extremely well read, and so very kind. In addition to being a normal teenage girl, she runs an American Girl Doll-themed Instagram account with almost 15,000 followers. She is also battling cancer.

When Bella was diagnosed with osteosarcoma in her right leg, a type of bone cancer, it had already metastasized to her lungs and treatment options were limited. Her doctors in Greenville, South Carolina referred her to specialists in New York City at both Memorial Sloan Kettering Cancer Center and The Children's Hospital at Montefiore. However, due to her immuno-compromised and severely weakened state, she needed a private flight to get there. We were privileged to meet Bella and her parents. You can follow Bella on Instagram @thenookdolls.
Jaeda
Jaeda, on the left, traveled with her mother and cousin from their home in Alabama to Duke University Hospital . Jaeda faces recurrent pleomorphic xanthoastrocytoma (a rare type of brain tumor). Jaeda was so brave. We hope and pray that her ongoing treatment will be successful.
These stories and others can be found on the Children's Flight of Hope website and Facebook page.

About CFOH - Attend a Fundraiser - Donate
September is Childhood Cancer Awareness Month