Causey Aviation is excited to announce the addition of two light jets available for private jet charter at RDU, Raleigh Durham International Airport. Charter clients love the versatility and value of the Cessna Citation V. Owners love the economical operation and performance.
The Citation V is part of the most popular line of business jets of all time. It has an exceptional blend of cabin comfort, performance, and reliability. It's a good choice for short trips or short runways and is one of the most capable light jets. The Citation V is known as a pilot-friendly jet that is exceptionally safe.
The Citation V's average cruise speed is 415 knots per hour, which makes it a popular choice for 300 to 800 mile trips. From Raleigh, North Carolina private jet charter flights can go non-stop to the entire Northeast, most of the Caribbean and as far as the eastern part of Colorado.
The deciding factor for most clients when comparing the Citation V to other similar jets is often the comfort of the cabin. The Citation V's cabin is 17.5 feet long with seating capacity for up to eight passengers. The Citation V's roominess doesn't stop at the cabin. It has an external baggage capacity of 46 cubic feet and an internal capacity of 28 cubic feet. In other words, this private jet can carry about seven suitcases and three golf bags.
Experience the Citation V today at Causey Aviation. Causey Aviation provides private jet charter from RDU, Raleigh Durham International Airport, GSO Greensboro Piedmont Triad International Airport and other cities in North Carolina. Causey Aviation makes jet ownership simple.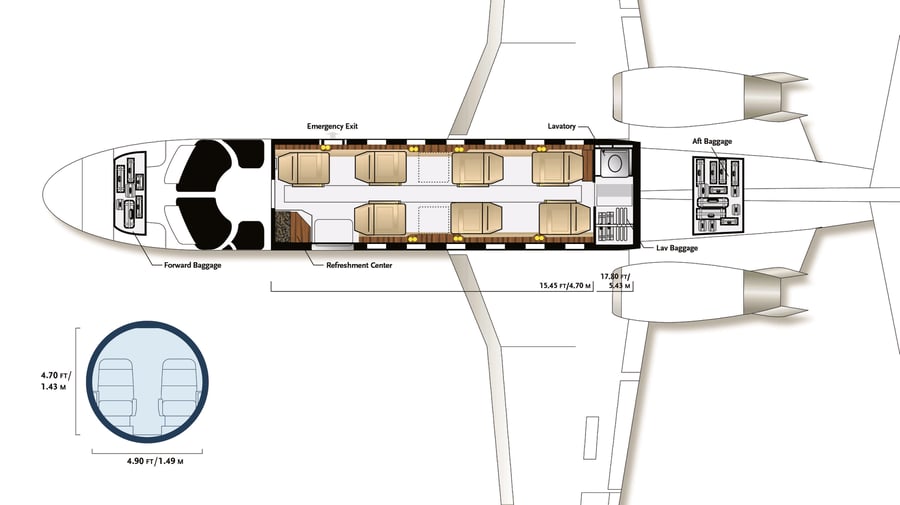 Download more information on the Cessna Citation V
Recommended Resources