Private jets provide an exclusive vista to the world. They offer a ticket to some of the most iconic, exhilarating or relaxing destinations on earth. You can escape the daily grind with a trip to one of these top three private jet destinations with non-stop flights from Raleigh, NC.
New York City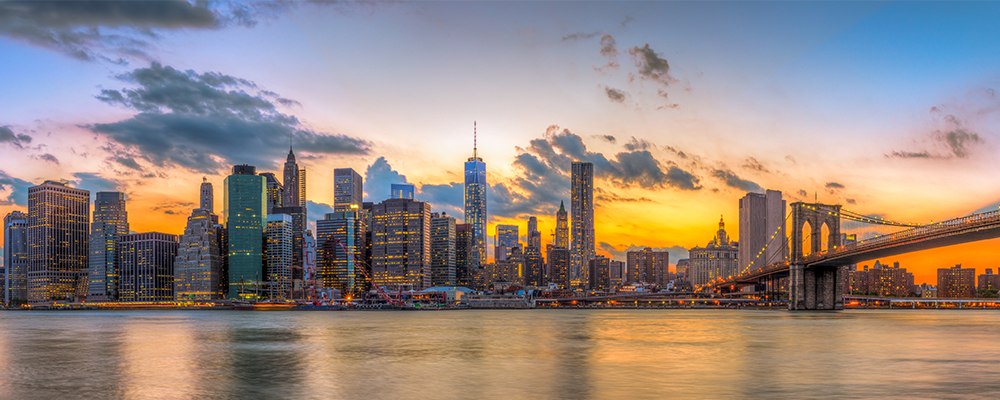 New York City is considered by many as the gateway to the world. It's the place where first class fashion, time-honored restaurants, legendary theatre experiences, and business all mix together to create the ultimate jet charter destination.
If a walk through nature is your style, consider visiting one of the scenic parks in the city. Central Park and the Central Park Zoo are both popular destinations for travelers seeking nature on their trip to 'The Big Apple'. Bryant Park, which offers plenty of outdoor activities and places to eat, or the High Line, which is an elevated park located along a set of railroad tracks are also sought out by tourists and NYC residents alike.
Get your evening started with a drink at one of New York City's luxurious rooftop bars, including the Night of Joy Bar, which boasts elegant Victorian decor, Gallow Green, which offers a relaxing garden feel and jazz music, or the Ava Lounge, which offers amazing views of the Hudson River.
If you have a little extra time to spend in NYC, consider visiting some of the historical attractions, like the Statue of Liberty and Ellis Island.
Causey Aviation offers luxury direct flights from RDU to New York LaGuardia, JFK, Westchester and Teterboro airports.
Recommended Jet:
Citation XLS+

Our Citation XLS+ has the ability to get you to New York City area destinations in as little as an hour and 15 minutes. With the ability to seat nine passengers, satellite phone, and GoGo Business Text and Talk, you can finish up last minute work details even when flying. Our Citation XLS+ boasts a cabin length of 18.5 feet and 61 cubic feet of cargo space so that you can bring all of your personal and professional belongings with you to your next executive convention, client meeting or private travel.
Boston

Boston is the city where the past and the future exist in perfect harmony. You can walk on the cobblestone streets of Old Boston, and take in the architecture of modern glass enclosed luxury shopping centers, within the same block. Boston is a city rich in history and is known for its 'old world meets new world' ambiance.
Once your work is done, consider touring the Samuel Adams Brewery, which boasts a relaxing beer garden where you can enjoy a pint of Boston lager. If food is your vice, participate in one of the many Boston food tours, where you can visit some of the most iconic neighborhoods, including South End, North End, Chinatown and Allston. Looking to take in Boston's culture and history? Then consider visiting the Boston Tea Party and Ships Museum, the Bunker Hill Monument, and the USS Constitution.
Flying from RDU to Boston has never been more comfortable or convenient. We offer direct flights to Logan International and Hanscomb Field aboard our Hawker 850XP.
Recommended Jet: Hawker 850XP

Our Hawker 850XP seats nine passengers in its 21.3-foot cabin, and boasts 50 cubic feet of luggage capacity. Executive travelers can enjoy the stand-up cabin and the relaxing full-sized couch. The Hawker's ability to travel 505mph ensures that you'll be at your Boston destination in about an hour and a half.
West Palm Beach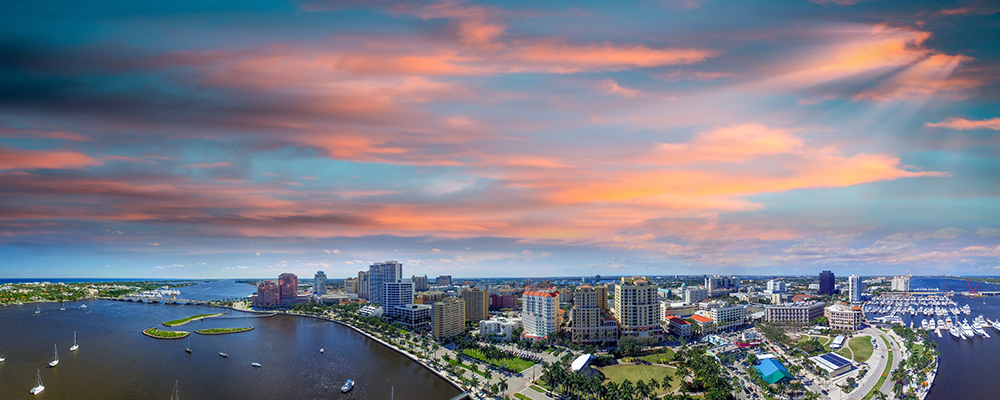 West Palm Beach - along with Miami and the entire South Florida area, is a quintessential destination for many private jet setters for both work and play. The legendary beaches, nightlife scene, golf courses, and high end shopping are sought by travelers from around the globe. With its close proximity to the Caribbean Islands, West Palm Beach is also a prime spot to quickly hop from a private jet, onto a private yacht.
Once you're finished with your obligations for the day, relax on Clematis Street, which is in the heart of downtown West Palm Beach. This popular destination boasts plenty of places to eat and drink, live music, and several historic landmarks within easy walking distance. If you're looking for another nightlife location with lots to do, consider CityPlace, which boasts plenty of shopping, dining, arts and culture and entertainment, like Sloan's ice cream shop, Cabo Flats Cantina and Tequila Bar and The Harriet Himmel Theater. If outdoor recreation is more your style, consider visiting Okeeheelee Park and Lion County Safari.
RDU to West Palm Beach takes roughly an hour and a half in our luxury Falcon 2000LX. Our private jet fleet offers direct flights to Palm Beach International, Fort Lauderdale, Stuart, and Boca Raton.
Recommended Jet:
Falcon 2000LX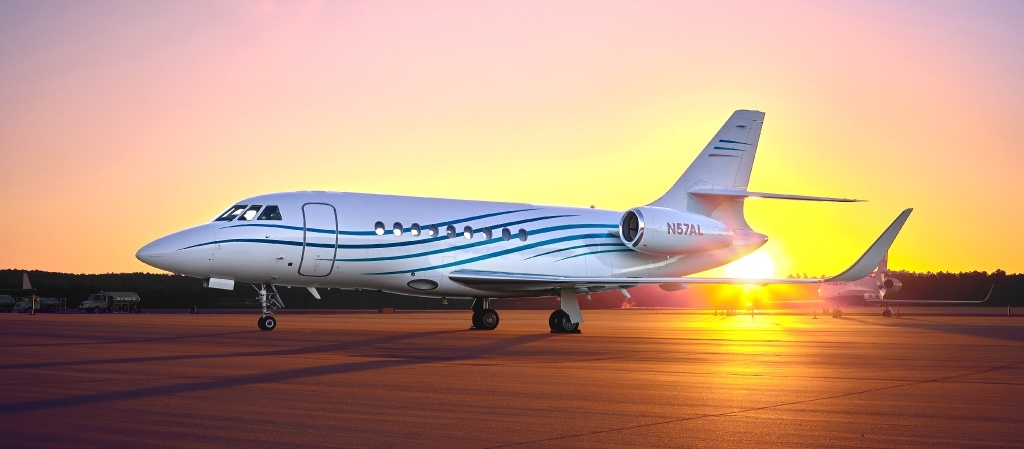 Our Dassault Falcon 2000LX seats nine passengers and boasts in-flight WiFi and a minibar with your choice of refreshments. Passengers can enjoy plenty of space to relax or maintain productivity while on the way to West Palm Beach. This luxurious jet also boasts a pressurized luggage compartment and a state of the art space age cockpit equipped with the latest Falcon technology